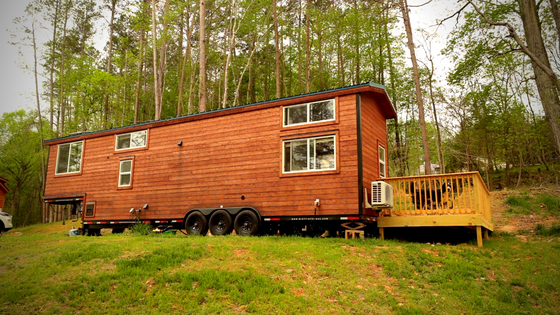 Truly Wonderful New Tiny House Community
Welcome to Cranmore Meadows, a new tiny home community in Haw River, North Carolina. The village sits on a 30-acre nature preserve. Owners Nathan and Callie also plan to turn it into a wedding venue, permaculture farm, wellness retreat, and host green building workshops. Phase one of the tiny house lots is now open.
All the residents love it there, and it's easy to see why. It's a supportive, cooperative environment while maintaining individual freedoms. Importantly, this balance is by design. Cranmore Meadows could be seen as a kind of intentional community that is run by two leaders instead of comphrensive group planning and consensus decision-making.
"We call ourselves benevolent dictators because we did interview a lot of founders of intentional communities and intentional communities with consensus built-in. They all said the same thing, don't do it.

We have really cool people in our community, and they have to run things by us before they move forward with doing a chicken coop and getting a half dozen chickens on-site or doing a community garden. But we have monthly meetings where we discuss that stuff. And folks can submit a budget to us, and we can all talk about it as a community, but ultimately Nathan and I make the decision and give the go-ahead.

We also have rules when you're signing the lease, like HOA, type of rules--your standard stuff.

One thing we did have to come to a consensus on in this process was lease hours because we like free-ranging our dogs. But not all dogs get along. So we came to a consensus on doing certain hours of the day, which are lease hours."

-Callie & Nathan, Cranmore Meadows founders & tiny house dwellers
Inside this New Tiny House Community
Cranmore Meadows is split into three meadows. As you enter the village, the first meadow features the community guest house, shared kitchen & laundry room, and communal outdoor dining area. This is where many future events will take place.
Second, you can find Callie and Nathan's DIY tiny home in the second meadow and the first phase of the tiny house village is up the hill. This hosts seven roomy and wooded rental lots.
Then, the following open green area is where the second pocket of six parking spots will be located. Lastly, at the end of the 30-acre property is the most beautiful meadow. The Haw River surrounds it on three sides. Additionally, this is a camping and glamping area with earthen buildings.
Currently, the tiny house lot rent is $600 per month. It includes septic, water, physical address, road maintenance, communal spaces, trash & recycling collection. In phase 2, they'd like to move to a sliding scale based on income. So someone who is a lawyer would pay more than another resident making minimum wage.
Interestingly, Callie and Nathan are not breaking even with the existing rent payments. But going higher didn't feel right to them. In part, this decision is what led them to explore other revenue-generating uses for their property that are still in line with their values of community building, sustainability, and grassroots education.
See the tour above for more of this new tiny house community, the legal approval process & Amy's DIY home tour (the "village mom")!
Follow Cranmore Meadows on Instagram: @cranmoremeadows
Thanks to our episode sponsor, Renderfores
t!
Save 20% off a subscription to this all-in-one branding platform: https://bit.ly/renderforest-tinyhouse
Tour the Tiny Homes in this Community!