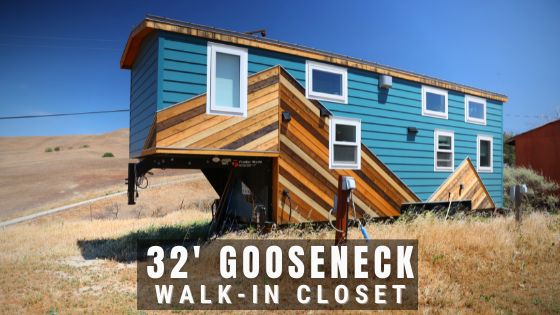 Woman Designs Dream Gooseneck Tiny Home
From living at home to college dorms and shared housing, Nicole's only private living space has been a bedroom. That is until a couple of years ago when she decided to build her dream tiny home. Nicole carefully planned her design by drawing layout after layout late at night. Fortunately, she's always had a knack for spatial planning.
"The main reasons I went tiny were to design it myself and to put my spatial planning skills to the test. And to live in the Bay Area which is cost-prohibitive, but also to be able to leave if I wanted to."
Nicole meticulously vetted potential tiny house builders via a detailed spreadsheet to track various pros & cons of each. Ultimately, she chose Mitchcraft Tiny Homes who's brilliant craftsmanship help bring Nicole's design to life. 
She found parking through Craigslist, browsing through numerous THOW parking listings. In the end, she chose one on a semi-rural property with beautiful sunsets. Nicole's parking situation highlights how it's a mutually beneficial arrangement for her and the homeowner by helping her landlord meet her large monthly bills. That's something she wants cities to understand when they consider allowing tiny houses on wheels as primary and accessory dwellings.
And fun fact: Nicole has two tiny home neighbors! Watch a tour of her neighbor Alex's 10-ft wide tiny with amazing bathroom here.
Inside Nicole's Gooseneck Tiny Home
Nicole's 32' gooseneck tiny house is beautifully functional--every inch is maximized. But it's her inventive layout, that gives her a bedroom with lots of headroom and an impressive walk-in closet. The bed is lofted over the bathroom in the gooseneck section, which opens the floor space for a variety of uses, like an alternate workspace. Watch the tour above to get the full picture!
See more of Nicole's tiny home life on Instagram.
Thanks to Trade Coffee for sponsoring this video!
Get 50% off your first bag of coffee with Trade Coffee when you click here http://cen.yt/TradeTinyHouseExp AND enter code: TinyHouse50
Exclusive Content
Monthly LIVE tiny living discussions with extended Q&A, plus BONUS content, like behind-the-scenes filmmaking and tiny home life insights.
Early Access
See new videos first, get first dibs on new online courses and more!
Exclusive Giveaways & Discounts
Win tiny living festivals passes, and more!
Join today!