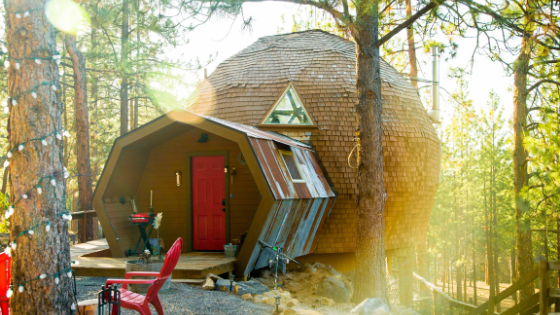 Magical Renovated Geodesic Dome Home
What makes a geodesic dome home work? Keep scrolling!
We are partnering with Airbnb to share the amazing stories of hosts behind unique small space listings. Meet Superhosts Denise and Mike. They created a magical geodesic dome experience, combining the serenity of a treehouse with the comfort of an organic-shaped dome. It's proven to be a bucket list stay, bringing joy to the guests and hosts alike.
Their hosting income is helping to pay for the construction of a small house they plan to retire into on the same property. For them, it's about much more than the financial perks—Denise and Mike relish sharing their unique geodome home with others.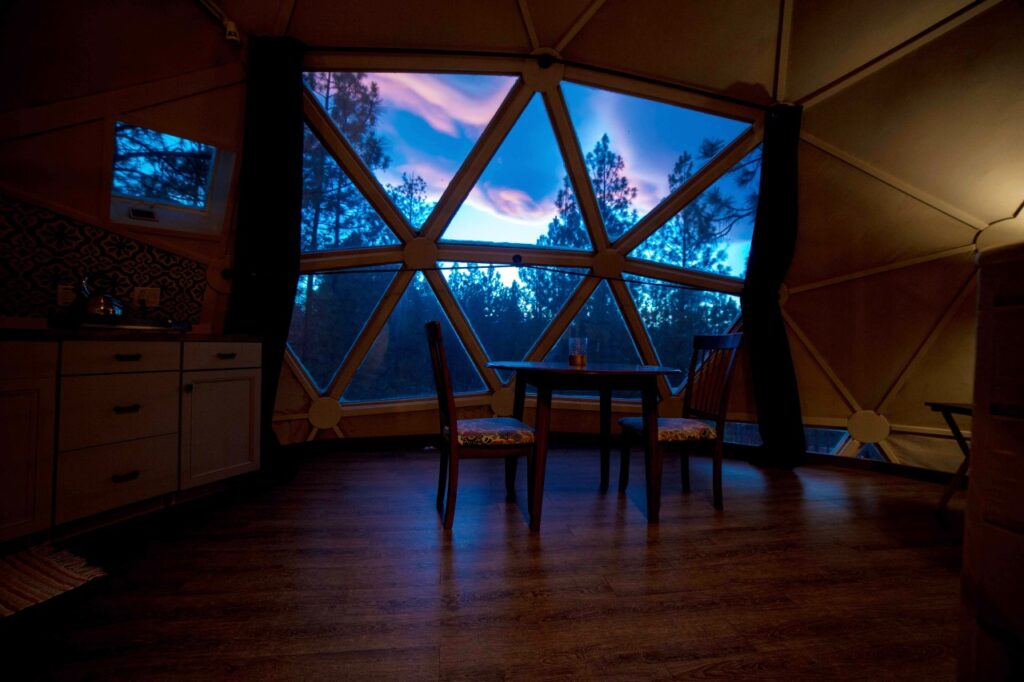 As an architect, Mike truly enjoyed the challenge of renovating the 700-square foot geodesic dome cabin, which was originally built back in 1970. It's just too cool not to share! Offering a truly memorable experience with interesting people from all is what excites Denise about hosting.
And she never knew cleaning a geodesic dome home would be so enjoyable! The time spent cleaning between guests is remarkably relaxing. Denise attributes it to the awe-inspiring feeling of the space.
We agree! Being inside their Dome Sweet Dome is like being a cozy yet surprisingly spacious sanctuary. Large triangular-shaped windows offer incredible views from a 30-foot high vantage point—the dome is built into a hillside overlooking their wooded property. Also, the combination of ample insulation and interior canvas walls makes the space incredibly quiet.
As Denise points out, the geodome is ideal for an author seeking a cozy cabin in the woods.

About Geodesic Dome Homes
A geodesic dome, aka geodome, is a sphere-like structure composed of a complex network of triangular pieces creating a self-balancing structural framework. A dome home is a dwelling, with standard features and amenities like any house, except in the shape of a partial sphere.
Due to its aerodynamic shape, a geodome can better withstand extreme weather conditions, even hurricanes.  Structural efficiency is built in. A geodesic dome encloses more volume with less surface area. Consequently, it uses about 30% fewer building materials, doing more with less—a concept dear to the tiny house movement.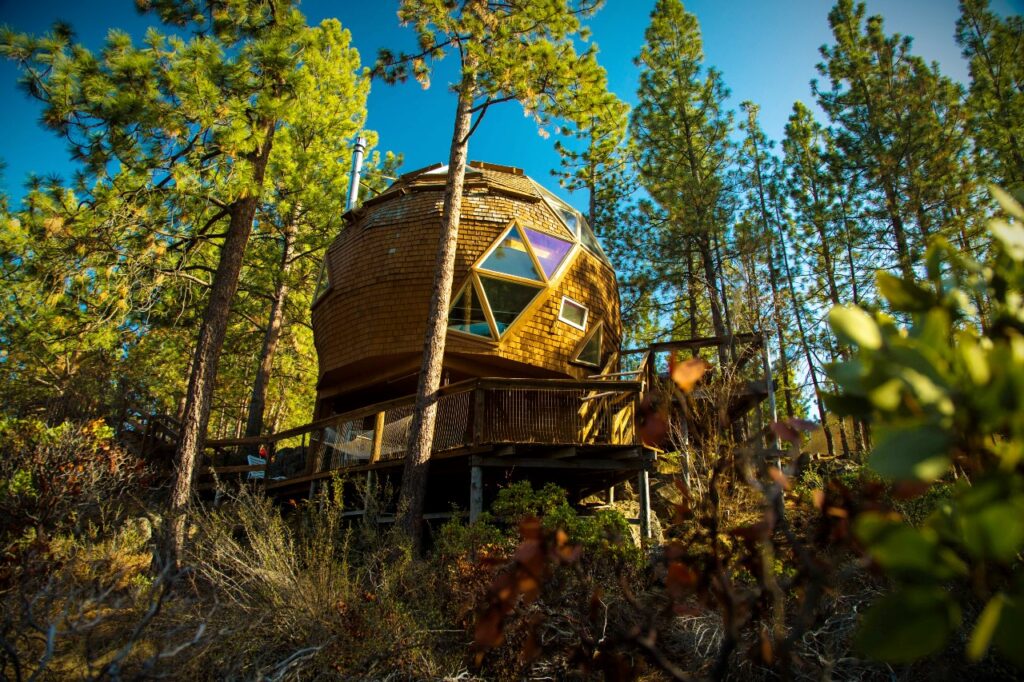 In a rounded home, airflow provides natural circulation. Air travels efficiently around the space instead of bouncing off walls, keeping energy consumption at a minimum.
A geodome's open round living environment feels uplifting. High ceilings with skylights contribute to this feeling. Interior design, though, can be a huge challenge because of the inherent lack of flat walls and right angles. Builders create right angles by adding carefully planned interior walls.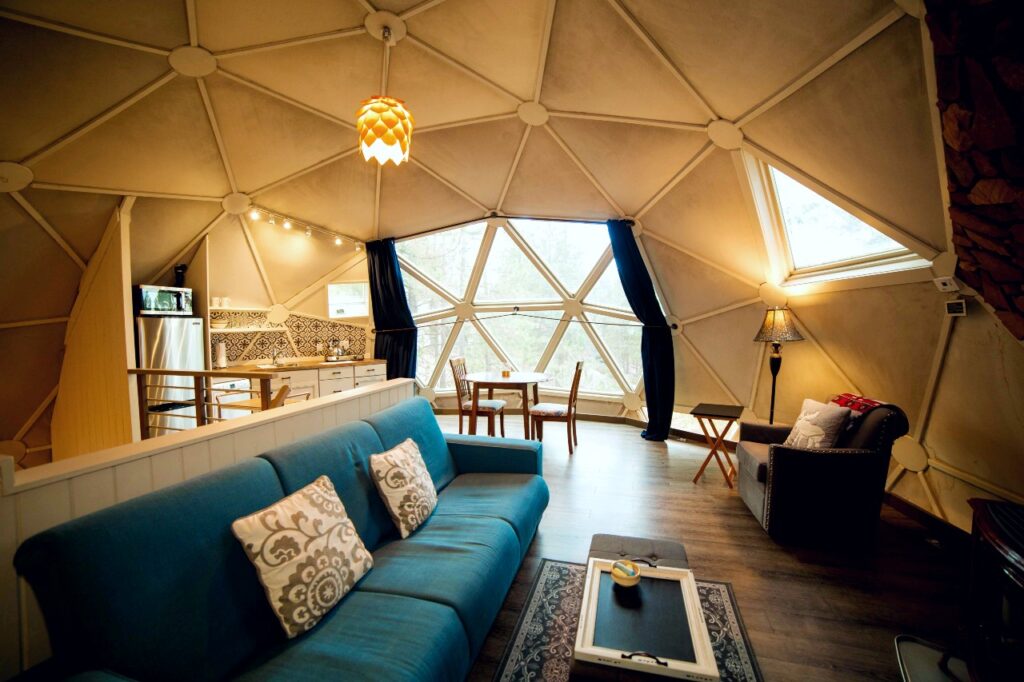 Mike and Denise's geodesic dome home features a second story to maximize space efficiency. It utilizes a floating floor system because the self-supporting house frame doesn't have the structural integrity to support it. The space created around the second-story floor helps to maintain air circulation around the entire home.
Ready to add a geodesic dome home Airbnb to your bucket list? Book Denise and Mike's Dome Sweet Dome here.
Considering hosting an Airbnb tiny house?
Learn about the benefits here. Disclosure: We earn a small fee when we refer people to start hosting. You can also connect with an Airbnb Ambassador and learn how to create a successful listing by signing up for a webinar.
Exclusive Content
Monthly LIVE tiny living discussions with extended Q&A, plus BONUS content, like behind-the-scenes filmmaking and tiny home life insights.
Early Access
See new videos first, get first dibs on new online courses and more!
Exclusive Giveaways & Discounts
Win tiny living festivals passes, and more!
Join today!