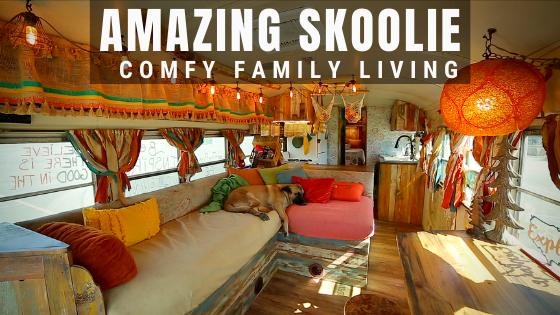 Family's Amazing School Bus Tiny Home Conversion – Best Layout Ever!
Is this the best skoolie tiny home?!
The Backroads or Bust family of 6 converted a school bus into an amazingly comfortable, functional, and beautiful tiny home.
It's quite possibly the best skoolie layout out there. We're biased, though, because it's definitely one of our all-time favorite school bus conversions.
It's one of the few tiny homes we've seen that eliminates the hallway look and feel.
The decor is cohesive throughout, but rooms are distinct spaces. We especially appreciate the level of privacy between the master bedroom and the kids' bunkroom, which they managed to do, while not skimping on storage or play space.
Every detail of this bus has been handcrafted and thoughtfully put together. If you can see it, wife/mother, Shyla did it, and if you can't see it, husband/father, Jonathan did it (all the electrical & solar systems, etc.).
Together they bravely live life on their own terms, embracing freedom from limiting social norms. 
"Walk on your own yellow brick road. If you can't find one, spray paint your way into happiness. If that doesn't work, buy yellow shoes."

― Sadiqua Hamdan, Happy Am I. Holy Am I. Healthy Am I.
Their two youngest are homeschooled/"roadschooled," with enhanced learning through first-hand experiences at museums and nature throughout the country.  
For them, home is where they park it.
They exclusively boondock during their nomadic travels, while maintaining a home base on their land in Kansas City, where the two oldest go to high school.
Fortunately, they can finance their travels as digital nomads. Jonathan started a web design business.
While Shyla, focusing on schooling the kids, creative outlets, and inspiring others to make brave choices. Follow her on Instagram and their bus adventures: @the_long_road_to_sanity and @backroadsorbust
Exclusive Content
Monthly LIVE tiny living discussions with extended Q&A, plus BONUS content, like behind-the-scenes filmmaking and tiny home life insights.
Early Access
See new videos first, get first dibs on new online courses and more!
Exclusive Giveaways & Discounts
Win tiny living festivals passes, and more!
Join today!