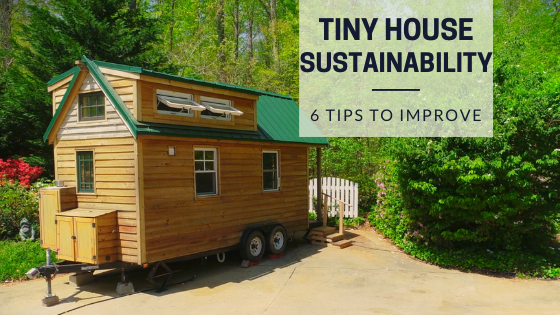 6 Ways to Make Your Tiny House Sustainable
Tiny house living is naturally sustainable in many ways, but you can easily expand upon this.
In recent years, the tiny house movement has taken the world by storm. For most people, the desire to downsize stems from trying to counteract rising housing and utility costs. In other words, it's to save money and create financial sustainability.
However, tiny homeowners promote environmental sustainability, as well. 
Just by choosing to live in a tiny home, you are reducing ecological impact.
"I found that among 80 tiny home downsizers located across the United States, ecological footprints were reduced by about 45% on average. Surprisingly, I found that downsizing can influence many parts of one's lifestyle and reduce impacts on the environment in unexpected ways."

(keep scrolling for the infographic based on her study)
Here are six ways to make your tiny house even more sustainable and eco-friendly.
1) Choose a Renewable Energy Source
One of the benefits of moving to a tiny home is that your energy consumption will be negligible when compared to larger homes. This reduced consumption also makes it easier to take advantage of green energy sources, such as solar power.
Solar panels are a great option for off-grid living, and of course, reduced carbon footprint.
These can adhere to your roof for convenience and portability. However, you can also set up your panels on a mounted rack to set near your tiny house. This is especially useful for ideal placement for maximum sunlight.
You'll also need to invest in battery storage set up to store your power for use during cloudy days or night time hours, as your panels will likely generate more energy than you need.
This can super technical quick, but there are more plug-n-play options out there than ever before. Also, professional consultation and installation pricing as dramatically dropped in the last few years.
Alternatively, some tiny homeowners opt for an off-grid wind power generator.
Portable marine wind turbines are usually under $1000 and can be packed up and moved relatively easily. If you live in an elevated area that gets wind blasts throughout the day, this option works well in conjunction with solar power.
If you're setting down permanent roots, check to see if there are eco-friendly energy providers around. EnergyBot's web page shows a helpful comparison table that highlights green providers and who provides rebates for less consumption and sustainable energy use.
2) Use Smart Landscaping 
Sustainability measures continue outside. Use smart landscaping techniques to optimize your home for energy efficiency.
Have your large windows facing the south and west to get the best possible exposure to the sun. If your tiny house is on wheels, adjust your parking to achieve the ideal position.
Do you own land? Plant tree tunnels to provide shade and wind blocks, while directing warmth to your home during the winter months.
Think outside the box when building and placing your tiny home. You aren't as limited as owners of larger homes are when it comes to using the natural landscape to your advantage.
For example, tiny homeowners can choose to build their house into the side of a hill to provide more insulation for less power consumption.
3) Invest in Quality
They say homes aren't built like they used to be, and it's true. While the tiny house movement might be financially sustainable for you, don't skimp on quality.
Whether you build or buy your home, look for one that's made from high-quality materials that are built to last. The same applies to your fixtures and furnishings inside the home.
Rather than trying to save a few dollars now, make an investment in products that won't end up in a landfill ten years from now. Though, you can often find frugal finds by "saving" items currently headed there.
4) Opt for Reclaimed, Salvaged and Recycled Materials
Using recycled materials is a fantastic way to make your tiny home more sustainable, both financially and environmentally.
For instance, recycled glass tiles look amazing as a backsplash in your kitchen or as a part of a walk-in shower. Recycled cork floors are a nice alternative to wood or laminate, and offer both insulation and comfort.
Speaking of insulation, using recycled insulation is a sustainable alternative to synthetic linings. This type of insulation generally consists of recycled paper and cardboard covered in a natural fire-resistant coating, such as calcium carbonate. 
In our tiny home build, we used many salvaged and reclaimed materials—from an old farmhouse scheduled for demolition, Habitat ReStore, and fallen trees from a tornado.

Processing these materials was labor-intensive and time-consuming, but in the end, we saved quite a bit of money and added much charm and character to our tiny house. Therefore the best part, everything in our home has a story behind it.
5) Optimize for Natural Light
Include plenty of windows or skylights in your tiny home to make the most of the natural lighting while cutting back on your energy consumption.
Not only will this design feature make your tiny home more sustainable, but it will create a more spacious atmosphere.
Have a low-emission coating applied to your windows to create a heat barrier. This clear coat will keep heat in during the winter and out during the summer.
In conjunction with smart landscaping, you can dramatically enhance your tiny home's sustainability.
6) Scale Your Heat Supply
It can be difficult to estimate how much heat your tiny home needs to be comfortable. While most people know that they require less heat, they still tend to over-estimate out of fear of being cold.
Take time to measure the BTUs based on the size of your tiny home. This will help you invest in the right-sized heating and cooling system to ensure that you aren't overdoing it.
Tiny homeowners who overestimate their needs often offset the heat by opening windows and letting that valuable energy dissipate into the atmosphere.
Measuring can help you avoid this wasteful scenario.
Sustainable Tiny Living
These six steps are just the start of making a more sustainable tiny home.
We encourage you to make conscious efforts every day to cut back on your carbon footprint and live sustainably. Tiny changes can make a big difference!
Also, remember, by choosing to live tiny, you are already making a positive impact.
Here's the proof! Check out this infographic based on a study by Maria Saxton. She's the first person to do some serious academic research about how downsizing into tiny houses affects the ecological footprint of the homeowners.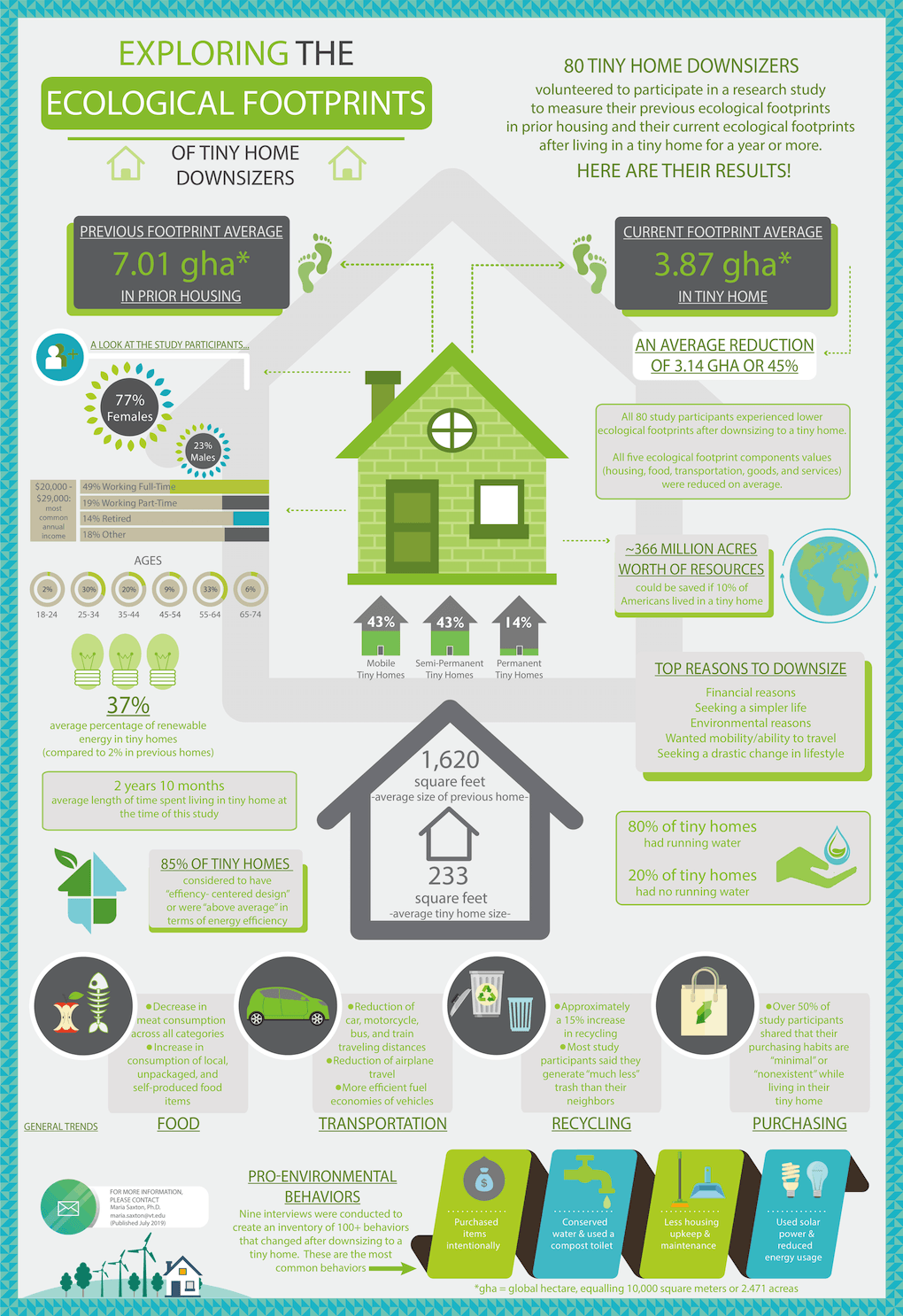 Tiny House Decisions is the super helpful guidebook that Ethan Waldman wrote 5 years ago to share all of the knowledge and decisions that he made to build his own tiny house, along with what he did right, what he did wrong, and how he would change things.
The guidebook, now in its second edition, has been expanded to reflect how tiny houses are being built today.
It's been expanded to include things like SIPs, metal framing, and different types of insulation, towing, etc, and also includes several new tiny house stories from other tiny house dwellers.
If you go through the guidebook from start to finish, you will have a solid plan for all the systems and everything else that's going to go into your tiny house.