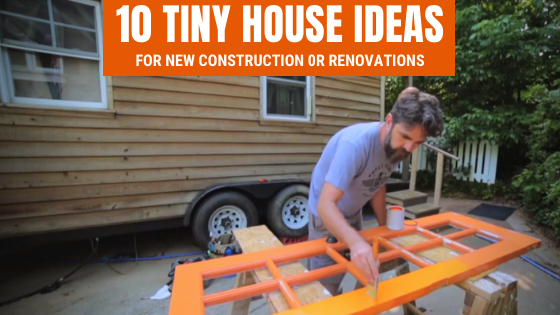 10 Tiny House Ideas for Construction or Improvements
Tiny house ideas are here! If you are looking to design and build your tiny home or just looking for improvements, keep scrolling.
Americans are searching for cheaper ways to live, and sadly, many are having trouble finding affordable housing. Today, rising rent pushes people out of their neighborhoods, and buying a traditional family home is just as much of a long shot.
So, what's a person to do? Luckily, architects, handypeople, designers, and other  DIY innovators banded together to come up with creative, affordable solutions for many.
Tiny house ideas are among the most popular: the popularity of these unique, minimalist homes has rapidly grown since they made their way onto reality television in the mid-2010s.
Try these tiny house design ideas, perfect whether you're new to the lifestyle or have lived small for years!
Are you wondering how to design a simple lifestyle or tiny house for yourself?
Read on for five top tips on doing exactly that.
Considering a Tiny House Ideas
If you're new to tiny living, welcome! Living small is a great way to save money while helping the planet. Tiny living is also about learning to prioritize friends and family.
Consider these tiny house design concepts as you join the community.
1. Choose Your Size
"Tiny" is a broad category. Consider your needs before choosing square footage and be honest with yourself.
That 200 square foot home might be charming, but is it right for you, a couple of kids, and your golden retriever? Maybe not.
Our advice watch as tiny house videos, tour as many as possible at events, and if you can, book a stay at an Airbnb. What feels like a good fit?
2. Pick the Perfect Location or Stay Mobile
Some tiny home investments include choosing a plot of land to live on. If you're planning on building a small version of a traditional house, take the location and the cost associated with that seriously. Read about top considerations to keep in mind.
Alternatively, you could build a tiny home on wheels and move whenever you like!
That doesn't mean you have to be nomadic, but the huge advantage is the flexibility to move whenever you need to or feel like it.
3. Design for Durability
Whether staying put or roaming the country, make sure your tiny home can withstand the elements! Build a safe, long-lasting home by following established standards and materials.
One popular option for staying put is to build metal homes—strong, affordable, and potentially portable as they're often lighter than, say, brick or concrete.
4. Watch Your Walkways
Ironically, it's all too easy to forget little things—like walking room—while planning a tiny house. Use a plan made to scale, and mark off walkways as you construct to avoid cramped conditions.
The more open the tiny house floor plan, the bigger it will feel, as well as easier to navigate the space, especially if sharing with a significant other.
Consider accessibility as well, especially if mobility is a concern for you in the future. You may want to consider a wider tiny home design, and one with a downstairs bedroom.
Leaving walking (or rolling) room makes your home more usable for you, long-term.
Ideas for Tiny Houses in Need of Fixes
So, you have a tiny house. When's the last time you put some work into it?
It's fundamental physics: Everything falls apart over time, and tiny homes are no exception!  Though, maintenance and renovations are more manageable and affordable simply due to the smaller footprint.
5. Reinforce Your Roof
Tiny houses need regular roof maintenance, just like big homes do. Fix up your shingles, or try changing material to something sturdy like steel (known for being a 100-year roof!).
6. Color Your Life
Chances are, your siding needs a bit of TLC.
Wood siding needs to be resealed every one to two years. Your tiny home can go from drab to brand-new looking, instantly.
Why not paint it the crazy color of your dreams? Just make sure to stay within any community guidelines to avoid issues.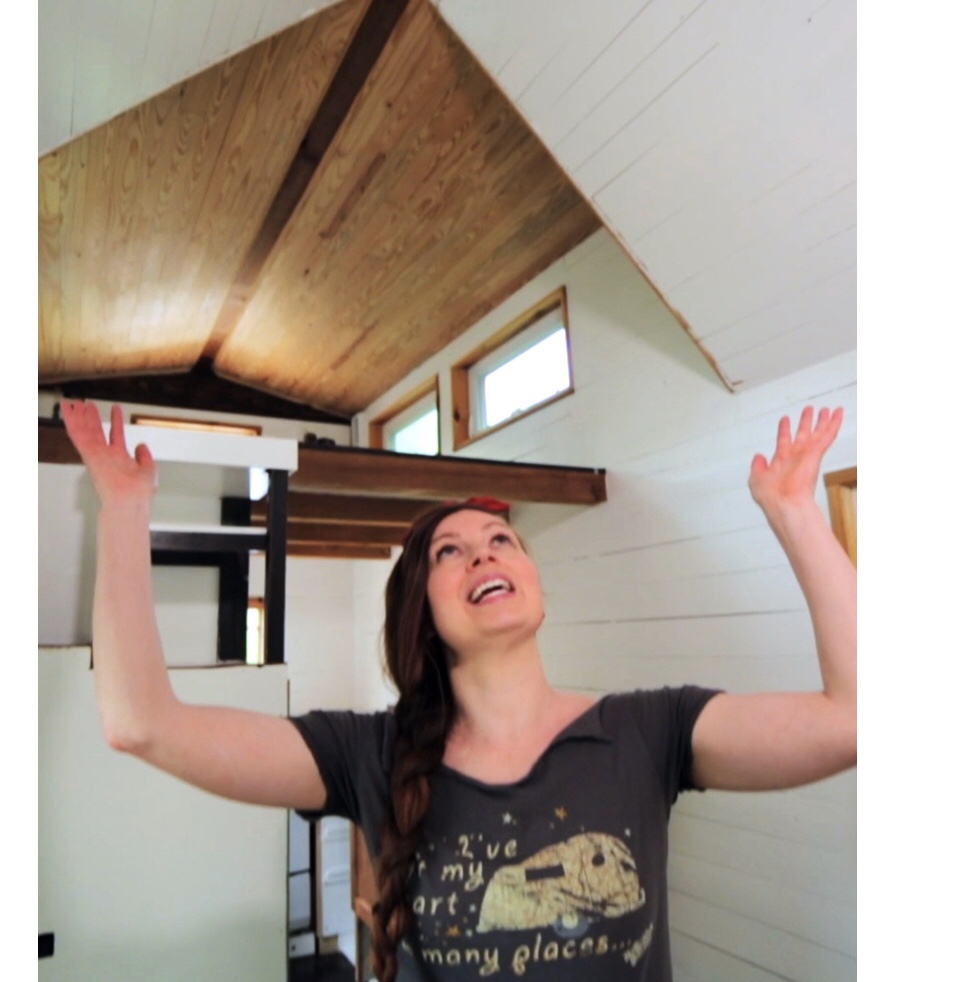 Or maybe just repaint your interior walls and consider a bright accent wall. Here's what we did to brighten up our tiny home.
Make It Even Better
Even if your house is all up to par, you can take it above and beyond! Check out these tiny home improvements to spark your imagination.
7. Update Storage Systems
Not surprisingly, a tiny house is always a storage challenge. Because it's a common issue, homeowners have no shortage of innovative ideas for tiny houses! Necessity is the mother of invention.
What seemed like it enough when you first built your tiny home, might feel lacking after months or years of tiny living—time to consider updating furniture or nooks & crannies with new efficient storage solutions.
For instance, we found that our "everything table" just wasn't meeting all our home office needs. So, we added a wall-mounted storage cabinet/standing desk— a custom built-in creation by Christian.
Additionally, we found our top-loading storage compartments in our sofa were annoyingly inconvenient. As a solution, we turned these into drawers.
8. Relax on a New Porch
What's the best part of living in a little home you can put pretty much anywhere? Living in the middle of beautiful nature, of course! Appreciate the scenery you selected on a new porch.
You could even install a detached porch or deck. This increasingly common—and very flexible—option for doubling or even tripling your living space.
9. Widen the Windows
Did you underestimate how much light your home's design gives you? It's not too late to let the rays in!
With wider, you'll get more light, making your space feel more open. Also, with more energy-efficient windows, you can increase insulation, which can help you save on electric and heating bills.
10. Running out of Room?
Finally, are you simply running out of space? It's honorable that you want to live super small, but people's needs change over time, and you don't always know how and when this will happen.
The solution? You can invest in an expansion or even a second tiny structure if you have space on your property.
Do you work from home? Tiny offices are becoming popular all over, and if you have kids, pets, or other distractions in your tiny home, a second building will help you get more work done.
Looking for More Tiny House Improvement Tips?
Did these tiny house ideas get your imagination buzzing with new design and home improvement projects? Investing in a new tiny home or remodeling yours is a great decision for so many reasons.
Are you looking to lower bills, avoid wicked high rent, or just be your own landlord? If so, it's the right time for you to invest in a tiny home!
If you're already living in one, these tips will put equity in your pocket if you ever decide to sell, and make your tiny house a better place to live. Plus, it will last longer with less maintenance in the meantime!
For more tips and tricks about tiny home improvement, scroll on through our site!
The Ultimate Tiny House Design/Build/Transition Workshop
Sign-up for this acclaimed 16+ hour Digital Tiny House Workshop to learn how to build a tiny house, the legalities to be aware, how to make the transition to living tiny, and more!
INCLUDED with the DIGITAL WORKSHOP:
54 bite-sized, engaging episodes
Downloadable follow-along booklet for note-taking
Over $300 in FREE bonuses, from tiny house plans to more how to's
Digital Diploma upon full completion of the course