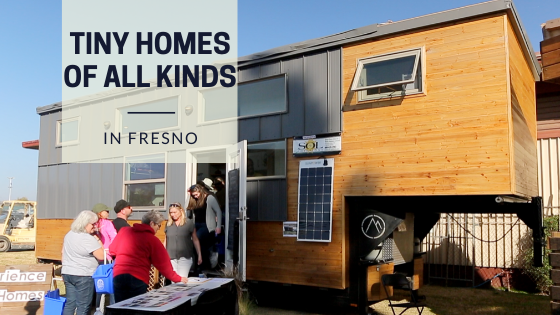 Intriguing Tiny Homes & Initiatives at Fresno Tiny House Expo
DIY Design Inspiration for All
We recently had the pleasure of participating in the Fresno Fall Home Show and Tiny House Expo in one of the first places where you can live tiny legally—Fresno, California.
Watch our documentary, Living Tiny Legally Part 1, to learn more. Besides sharing lessons, we learned from traveling 55,000 with our tiny house, we enjoyed learning about impressive educational initiatives, like Tiny EDU. Additionally, we toured tiny homes of all shapes and styles. It never gets old!
Watch the above video for tours of a tiny house on wheels, converted utility trailer, vintage trailers, van conversion, and skoolie.
What we love about showcasing tiny homes to both enthusiasts and the broader Home Show crowd is the opportunity for subtle advocacy, as well as, design inspiration for homes of all sizes. It's our hope that attendees will appreciate these small spaces, leading to more social acceptance.
The movement needs the support as many YIMBYs as possible (yes in my backyard)!
Featured: