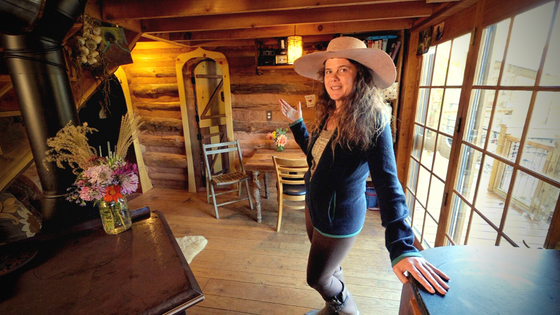 She built $5k Tiny Cabin & Added On – Learn how
Meet Natalie, DIY builder and Wild Abundance director. She built a tiny cabin for $5k, then added on as her family grew. Impressively, it showcases excellent small space design ideas, passive solar techniques, and permaculture principles. Natalie can help you build your own tiny or not-so-tiny home!
Wild Abundance offers online and in-person carpentry, Earthskills, gardening, and homesteading classes at their Western North Carolina campus. Natalie is especially proud of their online Tiny House Academy program. Registration occurs just once a year, though lifetime access is available to students.
If you're interested, sign-up here by November 11th and save $100 with code: $100OFF.
"The Tiny House Academy is an online tiny house school. It is incredibly rich and detailed, and it's great because you can enter it, and you can watch things in a sequence that we suggest, and you can also access this amazing library.

And then, we also have support. So all of the classes have areas for comments in them, and our instructor, Keenan Phillips, who's a fabulous contractor and really just a very kind person, answers all the questions as they come in.

And so there's a lot of opportunity for interactivity where a lot of these programs-- there isn't. And something that is very important to us is that our instructors are really approachable and very fun because a lot of people are like, ugh, an online class. I don't know if I can watch all of that.

But the feedback that I hear from the students who take it, which is hundreds and hundreds at this point, is that they just love the teachers and that it feels like-- it doesn't feel like a class. It feels like they're just hanging out with me or hanging out with Kenan and that we're sharing the skills.

It's something that people can use to go from zero to building themselves a tiny house."

-Natalie, Wild Abundance Director
Inside Her Evolving Tiny Cabin
When Natalie started building her tiny cabin, she used a ton of salvaged or reclaimed materials. Of course, that was partially an ecological impulse, but it also saved her a ton of money. The original build cost was mind-blowingly less than $5,000. Over time as she had more available funds, she added to her tiny home.
Natalie first built a 12' by 16' tiny cabin with two stories. It came to just under 400 square feet. In preparation for her daughter's birth, she closed in her timber-framed covered porch—8.5' by 22'. Lastly, she added a 12' by 12' bedroom for her little girl. That brought her home to a not-so-tiny 750 square feet. She used a combination of construction methods for the various parts of her house. This includes saddle-notched round log cabin with traditional chinking, stick frame, board and bat with rough sawn lumber, classic lime plaster with wooden lack techniques, and light straw clay.
Because her home is permanently located on a hillside, Natalie positioned it to take advantage of the sun for heating. There are a few ways she maximized this inside. In her kitchen, for example, she has a large soapstone windowsill with southern exposure. The stone radiates heat back into the room. In the winter, that thermal mass is really important for keeping her space warm.
Recently, Natalie discovered a major problem with her upstairs wool insulation. When she purchased it, the company told her that it would not be eaten by bugs because it was impregnated by Borax. But unfortunately, nine years later, she discovered that was not the case.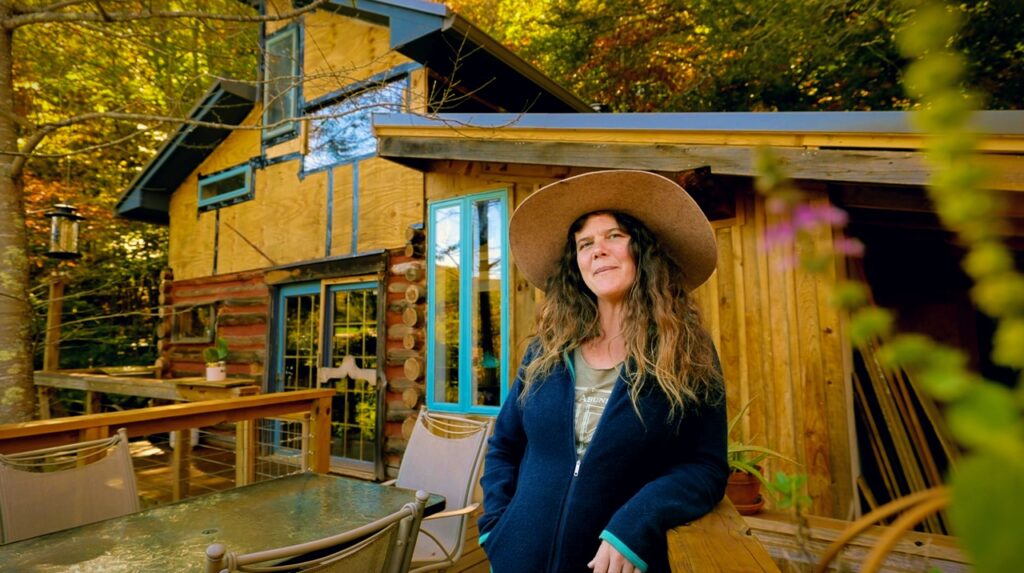 "So instead of tearing out the insulation from the inside, which is what one normally would do, I didn't want to do that because I loved the interior details and finished work that I had done. And so I decided instead to pull it out from the outside.

So we pulled off the siding, pulled out the wool, sprayed it all with boric air, put the insulation back in, and then this is the sheathing. And I'm going to be doing probably shingles up here."
Additionally, Natalie has added a rooftop greenhouse accessed via her tiny cabin back deck. It's placed on top of the communal Wild Abundance school building. Now, she can quickly walk from her kitchen to harvest her winter greens. They can be watered using her nearby rainwater catchment holding tank too!
Yet another great permaculture design choice in Natalie's tiny cabin: you want to put the things that you're using a lot close to your hearth, close to your home.
Watch the full tour of her evolving (originally) $5k Tiny Cabin on her sustainable homestead above!