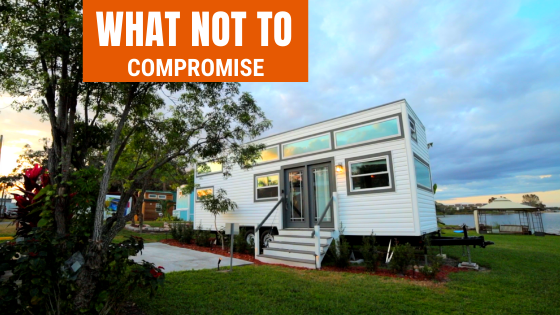 Things You Shouldn't Compromise On When Choosing a Tiny House
When it comes to purchasing a house there are many things to consider. Even if it's tiny.
For many of us, it is one of the biggest purchases - or THE biggest - of our lives. Financially, logistically and emotionally, there are so many facets to take into account. You may think that purchasing (or building) a tiny house may make those considerations tiny as well, but you'd be wrong.
In fact, there are even more things to think about if your space is limited, and some compromises you will need to consider to make it work in the long run.
However, there are certain things you shouldn't compromise on - here are some examples to help keep things small
and
beautiful. 
Homeiness
It goes without saying that your home should be, well, homey. No matter how small your tiny house is, it should feel welcoming, comfortable, relaxing, and above all, yours. There is no point in living in a tiny home if it means getting home from a day at work or college and feeling like you are sitting in a shoebox.
Personalize areas, put serious thought into the design and layout, and make sure you feel at ease. A bit of feng shui goes a long way! 
Entertaining
Just because your home is tiny, it doesn't mean you can't receive guests. A home is a place you can share with your family and friends, and having visitors is not something you can sacrifice altogether. Make sure that you have enough space for seating three or more so that you can entertain adequately. It can be a sofa, seat that also doubles as the bottom stair, and a folding chair (something that easily tucks away).
Use the living space economically and wisely (more on this later) to ensure there is enough room to accommodate your friends and loved ones comfortably. 
Finances
You may think that budgeting for a tiny home will be easier. This is a common miscalculation. Buying a home, tiny or otherwise, means a good deal of budgeting, consolidating or repaying existing loans, and searching for the lowest available rates on home loans.
Don't forget miscellaneous tiny house expenses like propane, and due to your small living space, you may want to outsource some activities like a home office by getting a coworking membership. Investigate these kinds of costs to get a solid feel for monthly budget needs. It's always worth reassessing your lifestyle outgoings as well - do you still need that gym membership; do you eat too often? Are you a bit trigger happy when it comes to online spending (downsizing into a tiny home helps but doesn't always get rid of the urge)?
Keep your finances in check, as the last thing you want is a tiny home and a huge debt! The quicker you can pay it off, the more expendable income you'll have for travel, hobbies, and retirement.
Storage
As we all know, storage space will be limited in a tiny house. If you have a convenient facility, it may be worth looking into external storage for things that you seldom need. Depending on the severity of the weather and seasons where you live, you may be able to store winter or summer clothes and equipment as appropriate. If you don't want to pay for a storage unit, think about investing in a small shed.
Also, the more multi-purpose furniture you can use, with built-in storage to save space, the better. 
Furniture
Again, this all depends on how you use your tiny house and who lives there. If you have children, you may want to find beds that fold away conveniently to make space for playtime or studying. If you work from home, choose a kitchen table that can double up as a work desk.
Clever multi-purpose furniture is available, which can be used for storage, and sofa beds are always a good option, either for yourself or for visitors. A tiny home does mean you will need to strike a balance between comfort and practicality, but that doesn't mean you should have to compromise too much on either.
With a bit of research (and measuring), you should be able to find solutions that work for you and your small house. 
Appliances
In the kitchen, you will have to make some tough choices. Do you need four burners? Or would two be sufficient, if it leaves you some extra working space? Lack of working space is a huge source of frustration, so a compromise on stovetop capacity may be the answer.
Another idea, to ensure adequate kitchen prep room, especially for those who love cooking, make this a central point of your tiny house design. Also, considering going with a slightly bigger trailer. Even an extra 2' can make a huge difference.
Do you need a full-sized refrigerator, or would a half-sized or even compact one meet your requirements? The chances are with children to feed you'd need at least a half-sized one, but if you're alone, maybe a compact one would be enough. Small fridges sometimes result in more frequent grocery store trips. If you're not into cooking, there are other portable options in the form of induction cookers, which might serve all your needs. 
As with many things in tiny houses, the compromises you choose to make all depend on your circumstances. If you have children or animals, you'll need to take them into account. If you work from home or just need a place to sleep, then you need to arrange your tiny house accordingly.
A golden rule to remember - once a compromise becomes a sacrifice, it probably isn't worth making. 
For more advice on tiny homes, from storage ideas to building tips, make sure you check out the rest of our articles before you go!
Need more help with BIG tiny house decisions?
Check out Tiny House Decisions digital guide by Ethan Waldman. Designed to start with the big-picture questions and move you step-by-step into the practicalities of building.