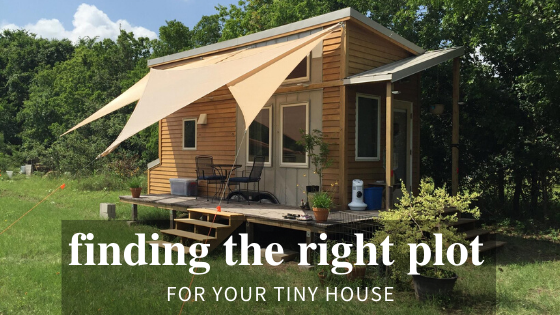 How to Find the Right Plot of Land for Your Tiny House Life
When it comes to the tiny house movement, finding land can be incredibly daunting. Here are tips for finding the right spot for your tiny home needs.
Considering life in a home with less than 600 feet? So have one half of Americans. The houses might be small, but the tiny house movement is a big deal.
It's not just the challenge of reduced living space. An even bigger deal is finding a piece of real estate where you can make your tiny house a home.
Follow our lead, and we'll show you how to find the right plot of land where you can start living your down-sized dream.
Go to the Source
Tiny homeowners looking for land usually start their search with Craigslist or a land searching site.
Be sure not to rely on vague or sketchy ads, decide where you'd like to live and go visit. Check out the community bulletin boards. Ask around town for information on land for lease or sale.
Once you find an area you're interested in living, look for someone locally with a mortgage broker license. In addition to helping you finance your land purchase, they may also know of people with land for sale.
Join a Tiny Home Community
Instead of hiring a real estate agent or spending hours doing your own search, why not join people who share your mission of living small to create more fulfillment?
You'll find tiny home communities all over the country where you can buy or rent land. These communities may feel like campgrounds, where community members share amenities, like washers and dryers. You'll need to weight camaraderie vs. privacy when you choose community living.
One advantage of a tiny home is you can easily tow it, stay awhile, and move on if you decide it's not the ideal fit. Though, it's a good idea to visit a community ahead of time to get a better feel for what it would be like to live there.
Do Your Due Diligence
If owning your land is your ultimate dream, try not to fall in love with a particular plot until you explore the practical side of living there. That means visiting the city zoning department so you can get the low-down on zoning and building codes.
Some cities welcome tiny homeowners with open arms. Others have restrictive zoning laws and codes that are tiny living-friendly. More than one tiny homeowner has bought land only to find they can't live on it.
Part of setting up your homestead includes obtaining permits and infrastructure costs for things like running electricity to your home and piping into the city water and sewage system. In most municipalities, obtaining permits means visiting the building department.
If the land you have your eye on isn't zoned for your tiny structure, you can't live there—at least not in a tiny home. Check out this land searching site; it advertises tiny house lots with no or limited zoning requirements.
Ready to Find Your Perfect Plot of Land?
We've shared a few things to think about when considering where you'll live in your tiny home. First, remember to leave no stone unturned when looking for available land. Second, consider a tiny home community—a big perk: no zoning research required. Third, research the area's zoning laws, building requirements, and necessary expenses.
Follow our tips and enjoy hunting for your ideal plot of land.
For more posts like this and a wealth of information about tiny home living, explore our blog archives.