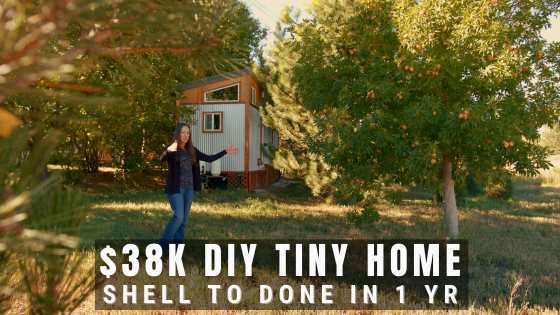 Woman's $38k DIY Tiny House in Private Farm Parking Spot
From Shell to Custom Cozy Home in 1-Year!
Meet Kristie, a college instructor with a love for sustainability. She built a $38k DIY tiny house with no building experience in just 1-year, after receiving a shell from Rocky Mountain Tiny Houses. And, of course, she customized it to fit her needs, including many considerations for her sweet cat.
Importantly, Kristie's entire DIY tiny home experience was incredibly empowering. Now she feels that the world is her oyster.
"I decided to build it myself for a couple of reasons; number one was cost. I talked to a couple of tiny house builders and knew it wasn't going to be able to afford what it was for them to build it.

...

I love that I got to build something just for me that whatever I wanted to put into it, I could. I love teal, so there's a lot of teal in my tiny house that I probably wouldn't have gotten to do if it wasn't just for me.

...

It feels pretty amazing to know you can take care of things. I  think it's definitely changed some of the ways I look at my future of what do I want to do in life. I kinda feel that sometimes I tell people I built a house, I can do whatever I what to do, I can reach any of the goals.

I felt like for a long time, this was a huge life goal of I want to build a tiny house, and I want to live tiny. Now I can ask what's next. I don't have the answer to that yet, but I know whatever it is, I can figure it out."

—Kristie, @fiercelytiny
Inside Her $38k DIY Tiny House
Kristie's $38k DIY tiny house is 22 feet long and 8.5 feet wide. It's home to her and her cat, who enjoys window views from many vantage points in the home. Additionally, Kristie made room for a cat tree. The litter box is tucked away out of sight in the mechanical room, minimizing odor and stops litter from entering the main living space. Both Kristie and her kitty enjoy watching the birds from the lounge loft, full of plants and books.
As a voracious reader, Kristie prioritized lots of book storage. She built a custom bookshelf with a sliding tabletop. Just slide the table out of the way to access more books. And when you need the table, it easily folds up to provide comfortable seating for three.
Unlike many others, Kristie secured her tiny house parking spot up front. It's also where she built it—on a small farm where she rents a lot for $250 plus utilities. What makes it an extra fantastic deal is the private, wooded nook that her home is tucked inside of. Bird watching for days!
Watch the tour above to see how Kristie customized her tiny house to suit her perfectly!
Follow Kristie's tiny home life on Instagram: @fiercelytiny.
Have you ordered our book yet?
Learn the history of the modern movement, get a breakdown of tiny home styles, and meet the passionate tiny community. The Beginner's Guide to Tiny Houses also discusses the pros and cons of micro-living―is a tiny house right for you, right now?
What people are saying:
"Most books about tiny homes are really just about the fantasy, with beautiful pictures in far-off places, but they don't tell you how to get from point A to point B. That's where this book comes in and fills in all the gaps!"