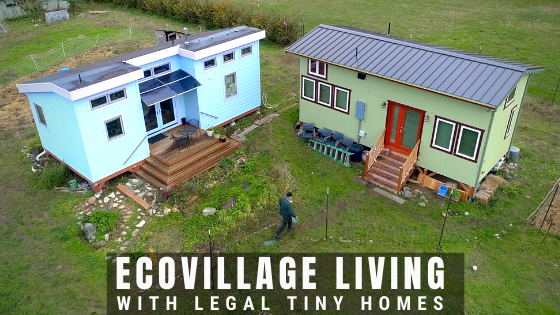 A Mindful EcoVillage's Legal Tiny Houses and Natural Built Homes
Welcome to the Port Townsend EcoVillage in Washington's Quimper Peninsula. It's a progressive-minded intentional community striving to live in harmony with the earth and each other. Their village is home to a wide variety of naturally built homes, and now two legally permitted tiny houses.
Our latest short documentary shares an honest perspective on experimental ecovillage living, featuring insights into natural building​ techniques, from stray clay to passive solar design. More than that, learn how living cooperatively can create a practical, sustainable community environment.
"The Port Townsend Ecovillage is place where we are experimenting and sometimes we fail."
Building Legal Tiny Homes at the EcoVillage
Because the PT EcoVillage is set-up as a planned unit development, the city previously approved specific allowances for the number of residential lots. Fortunately, there was never a restriction on the number of houses per lot. This gave them an opening to densify one of their remaining open lots for tiny homes. However, they must be built to the local residential building code.
Ultimately, the community settled on a 4000 square feet lot. They divided into thirds for three tiny homes with shared utility access. Now two extra-wide tiny houses have been placed. Thanks to the pier foundation system, they are movable. But unlike tiny houses on wheels, it much more costly to relocate them—$10-15,000.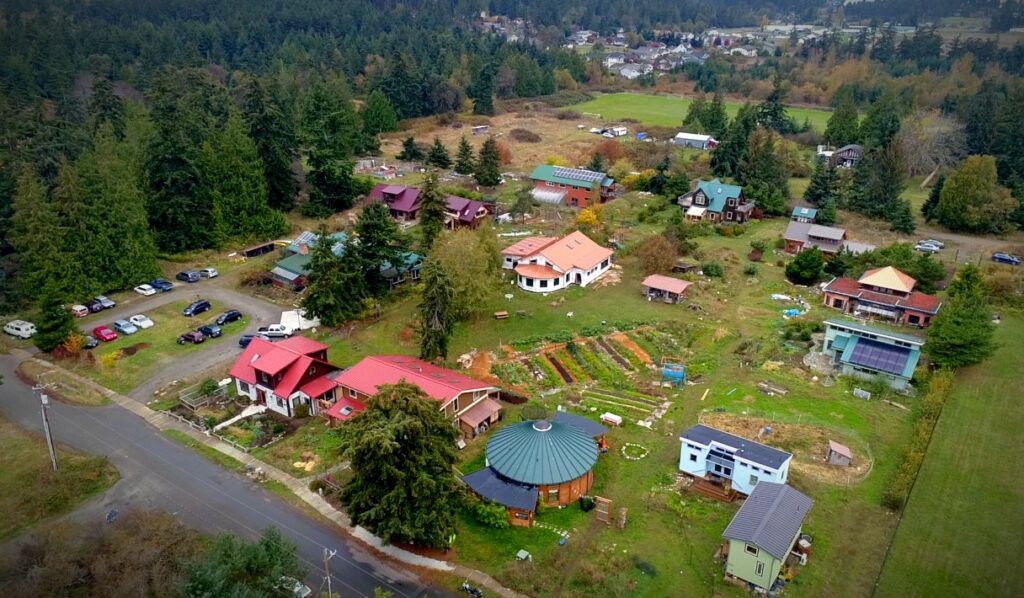 Each tiny house is built to the statewide adopted IRC Appendix Q Standards, which allows for sleeping lofts, alternative stairs, etc. Learn more about the groundbreaking model building code for tiny houses in our documentary, Living Tiny Legally, Part 2.
Unfortunately, building and permitting tiny houses as a permanent dwelling can be complicated and pricey. This is partially due to the associated fees.
Viki is the village's resident tiny house advocate and grassroots-focused economist. She is part of the Jefferson County's Housing Solutions Network, working towards missing middle and tiny home friendly regulations.
Thanks in part to their advocacy, the city of Port Townsend passed legislation that allows for reducing the cost of utility hookups for qualified low-income residents. Next, their sights are set on higher density in the local land-use zoning code.
As Viki points out, the beauty of the Ecovillage's tiny house lot, dividing one residential lot for three homes, is that it could be done anywhere.
Instead of one primary house with an accessory dwelling unit (ADU), why not two tiny houses?
Exclusive Content
Monthly LIVE tiny living discussions with extended Q&A, plus BONUS content, like behind-the-scenes filmmaking and tiny home life insights.
Early Access
See new videos first, get first dibs on new online courses and more!
Exclusive Giveaways & Discounts
Win tiny living festivals passes, and more!
Join today!