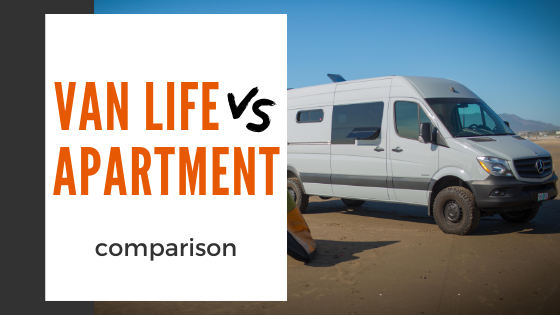 Camper Van Living: Better Than an Apartment?
Ups & downs of camper van living vs apartment life
Whether living on the road in an RV or having an apartment with noisy neighbors and a good view is better depends on who you ask. Some argue that apartments are too expensive; others point out that RVs don't have too much space to offer, but both statements can be true at the same time.
Even though it boils down to personal taste and subjectivity, these lifestyle options are different enough to be comparable. Today we'll try to answer the question 'is camper van living better than living in an apartment?'
Moneywise, frugal RV life beats frugal apartment life
If we're looking inside out, the cost of an apartment can match the cost of a high-class RV; fuel-guzzling motors can rack up gas expenses that match living expenses in any apartment. However, living in a normal-sized RV or camper van and managing your gas properly is considerably less expensive than all of the expenses an apartment-dweller has. 
Let's take a step back and consider the initial costs of even owning or renting an RV or apartment. Run-down recreational vehicles and camper vans aren't roadworthy and require much mechanical work, putting apartments with low rents at an advantage.
However, buying an RV is easier and cheaper than buying an actual apartment. It can also be much more affordable than an apartment rental. Furthermore, the primary monthly expense you'll have to cover in a camper van is gas, which is in most cases also used to power generators that provide electricity. Though, the more you travel from place to place, the greater your monthly gas expense.
In this particular situation, managing your logistics to get the best gas prices is significantly less expensive than paying rent, electricity, and utilities in most countries. So, overall, life in a camper van is, in most cases, cheaper than living in an apartment.
You do get to pick your neighbors in a camper van
Some people can't get along with their neighbors at all. Kids being kids are loud by default, teens are partying all the time, and couples argue; even if this isn't enough, the sounds of hospital vans and police sirens, dozens of cars honking at the traffic, and generally thousands of people going about their business can be pretty frustrating to people sensitive to loudness.
Living in an apartment, there's not much you can do about all of this aside from installing soundproof windows. Even so, this still does not guarantee that your relationship with your neighbors will get any better, and soundproofing your entire home is remarkably expensive.
Along these lines, you do get to pick your neighbors in a camper van. Living life in a camper van, you'll be on the road and be able to move from place to place until you find a healthy community with like-minded people. And, of course, you can mix up your locale pretty easily! It certainly beats moving out from one apartment to another every so often.
Camper vans are less spacious but can still be comfortable
The main advantage apartment life has over camper van life is more space. Even studio (one-room) apartments are bigger than a standard RV or a camper van. However, there are many ways to arrange your camper van to offer enough space for a comfortable life.
First and foremost, the thing that occupies the most amount of space is the bed in a camper van. Therefore, replacing stock beds with foldable ones can free up a considerable amount of room.
Secondly, replacing the driver and the front passenger seat with rotatable seats doubles for two chairs on a dining desk that can be installed right behind them.
Thirdly, you don't need to keep all of your tools, generators, and even clothes inside. A small wagon attached to the camper van is an ideal solution to most of your problems regarding little space. Depending on your rig, you might be able to store these items in exterior compartments or a bumper-attached storage bin.
Now, it's true that all of the aforementioned suggestions require quite a bit of cash, whereas all of these benefits are by default granted to anyone living in an apartment. These upfront investments are mitigated by the cheaper costs of living in RVs and camper vans after several months, though.
Beginner nomads or stationary RVers have a lot of work to do to optimize their interior, but it's certainly possible to make any camper van feel more spacious. Of course, downsizing helps, as well.
Living in a camper van is slightly less safe
The biggest downside of the camper van lifestyle is uncertainty. While (attempted) burglaries and theft are potential problems people who live in apartments need to be prepared for, living in a camper van has a different set of potentially negative circumstances.
Road bandits exist, and police are normally quicker to respond to local events rather than to a distress call made hundreds of miles from their station. Furthermore, it's not that hard to imagine a scenario where a van is stranded between two jurisdictions, in which case calling the wrong county will simply result in a redirection to the right one and, worst of all – waiting. These scenarios are common, but it is important to research safety tips from seasoned van lifers and RV dwellers, especially if you plan to minimize stays at RV parks and on-grid campgrounds.
That aside, people living in apartments don't need to wake up every day in a perfect mindset as far as driving is concerned. For example, if someone living in an apartment gets sick and needs groceries, they can simply order them online.
Most delivery services would either charge you hundreds (or even thousands) of dollars to deliver the bare essentials or turn you down. Being stranded on the road without food and water certainly doesn't sound comfortable.
Furthermore, most people wouldn't drive in heavy rain or snow, but people in camper vans usually need to (if for nothing else, for food and water). This is a huge hazard for even the most experienced of drivers, especially beginners. This is also a risk most people with families aren't prepared to take. But of course, this is contingent on your style of RV living—stationary or nomadic; urban or public lands based.
Finally, one of the scariest scenarios imaginable to van campers is running out of fumes in an area with a poor cellphone signal. If you manage to get a single bar, you can call the towing services.
If not, you'll probably have to hitchhike to the nearest village or city to do so while leaving your van and all of your belongings completely exposed. Being well prepared and keeping track of your resources, however, is an easy way to counter all of the aforementioned situations.
Plan ahead, pay close attention to your fuel levels and rely on the vanlife and RV community for more suggestions. 
Camper van living VS apartment living
We hope that this article was useful to you and that you've learned something new today one camper van living and whether it's something you would like to check out. Ensure you are staying safe in these times we are all going through, and have a good one, guys!
A few vanlife resources:
A couple styles of RV and custom camper living
Digital Magazine Dedicated to Tiny Home Living
Do you have more time at home? Enjoy some inspirational reading from Tiny House Magazine!
Discover different types of tiny homes from liveaboard boats to Alaskan yurts, converted school buses, and more.
Try recipes from a tiny house kitchen. Each month we feature a recipe from the Tiny House Foodie. Learn to make it work and still cook like a pro.
Read excerpts from books on tiny houses, downsizing, and a host of other related topics.
Each month brings new topics and new, exciting articles!