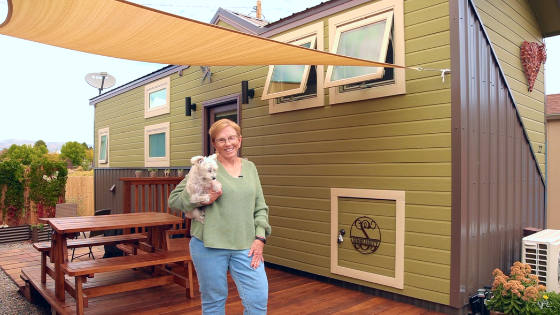 Her Dream Tiny Home with Escalante Village Tour
Aging in place in a mountain town tiny home community
Meet Sandy, a 77-year-old retiree aging in place in her dream tiny home. She lives in Escalante Village and loves the location and her like-minded neighbors. Fortunately, Sandy secured one of the first lots when it opened in 2019. It's a residential permitted movable tiny house community in Durango, Colorado.
As the saying goes, location, location, location! The village backs up the Animas River Trail, which runs through the heart of this darling mountain town. Sandy enjoys walking to the movie theater and riding her bike to the library.
"I've heard people say our tiny homes are so close together. Living this far about, which is probably about 15 feet apart, something like that doesn't bother me an ounce. We all pretty much keep to ourselves. If we want to be alone or if we see someone, we go outside and chat with them.

It's not noisy at all. I have driven through many communities where houses are much closer than this, with windows on both sides, and you can see into someone else's bathroom. I can't see into my neighbor's bathroom. So the fact that we're somewhat close together, I don't think, bothers any of us at all.

We just all have the same reason, I think, for being in a tiny house. It's a small footprint in this world today; it's economical, it's affordable living. It's easier to be minimalist than to have 10,000 things in your house. I'm fanatic about keeping my house clean. When I had a big house, I spent most of my time cleaning my house. Now I spend most of my town outside, biking, hiking, or talking to neighbors."

-Sandy, Escalante Village resident
Inside Her Dream Tiny Home at Escalante Village
Sandy lives in a 32-foot tiny house on wheels built by Simblissity Tiny Homes. They maximized her storage inside and out. For example, she has a large compartment underneath her loft with outside access. Similarly, she has a hidden pantry underneath her lofted bed that Sandy accesses in her living room.
Comfort and clean lines were both top priorities for Sandy. Everywhere you look in her house, you can find storage. But because it's so expertly built-in to her standing height loft, spacious kitchen, and bathroom, her tiny home feels very open.
She extended her living space outside with a large deck. One of her neighbors built her a custom picnic table that converts to booth seating. Additionally, Sandy created a lovely container garden with a trellis that doubles as a privacy fence.
Watch the tour to see more of Escalante Village and Sandy's dream tiny home!
Thanks to our sponsor, Established Titles! Get an extra 10% off with code TINYHOUSEEXPEDITION 
Sandy's Neighbor at Escalante Village
Have you ordered our book yet?
Learn the history of the modern movement, get a breakdown of tiny home styles, and meet the passionate tiny community. The Beginner's Guide to Tiny Houses also discusses the pros and cons of micro-living―is a tiny house right for you, right now?
What people are saying:
"Most books about tiny homes are really just about the fantasy, with beautiful pictures in far-off places, but they don't tell you how to get from point A to point B. That's where this book comes in and fills in all the gaps!"