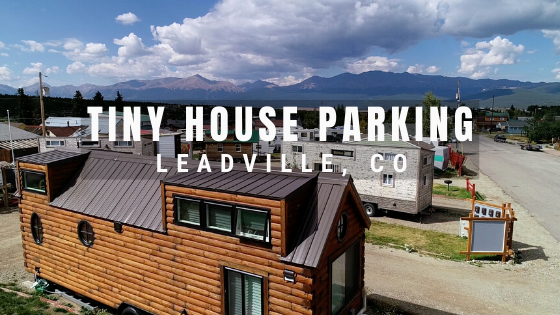 Mountain Tiny Home Community – Today's Tiny House Parking Spot
Today's Tiny House Parking Spot:
Tiny House Leadville in Colorado
The small Rocky Mountain town of Leadville is the highest city in the USA, situated at an elevation of 10,152 feet. This makes the charming Tiny House Leadville the highest tiny house community in the country. The next-door dispensary also provides a new facet to that fun fact.
Owner Jeremy Ricci, also the owns Tiny House Siesta, is transforming the old RV Corral into a tiny house resort community. The city was eager to grant their blessing to Ricci to upgrade the aesthetic of the park and attract both visitors and new residents.
The little community hosts a wide-selection of swoon-worthy tiny house rentals, as well as, full-time THOW dwellers. Also, for nomads or campers, there are a few nightly RV sites. In total, it has 33 lots.
Lot rent is comparable to numerous other tiny house communities at $600 per month.
Importantly, the location is prime. It's situated on the edge of downtown, next to a restaurant. Numerous other restaurants, shops, and bars are just a short walk away.
Perhaps the best part, breathtaking views of Mt. Elbert and Mt. Massive, both over 14,000 feet.
Just up the street from the village, you can access the Mineral Belt Trail. It is an 11.6-mile loop around this historic mining town, weaving through conifer and aspen forests, and mining points of interest with beautiful mountain vistas.
Also, within just a short drive are trails and lakes galore. The local ski resort is only 10 minutes away, and within 30 minutes to 1 hour are three larger ski resorts.
Basically, this is the outdoor enthusiasts' dream location.
During our week-long stay, I absolutely fell in love with Leadville. The warm sun and crisp, fresh mountain air felt like home to me.
Our experience there reminded me of some of my fondest memories growing up for a few years in the foothills of the Rocky Mountains.
We thought long and hard a few times about parking our tiny home there for a couple of seasons, and still might, one day in the future.
One thing to keep in mind: it's definitely small-town living. Larger town amenities, like Walmart or Whole Foods, are 35 minutes away in Frisco.
If you want to try out life at Tiny House Leadville, you can rent one of eight tiny houses on wheels rentals, including one built by the 2018 Ness City High School class.
Bring your furry friend— it's pet-friendly!
Use Code: SEARCH10 for 10% off your rental.
When you use coupon code: SEARCH10, Tiny House Leadville will donate 5% of your rental costs to SearchTinyHouseVillages.com! It's an amazing, growing directory of tiny home communities across the US, created by our friend Jill Kanto.
Tour the home of the Tiny House Leadville community manager:
Exclusive Content
Monthly LIVE tiny living discussions with extended Q&A, plus BONUS content, like behind-the-scenes filmmaking and tiny home life insights.
Early Access
See new videos first, get first dibs on new online courses and more!
Exclusive Giveaways & Discounts
Win tiny living festivals passes, and more!
Join today!