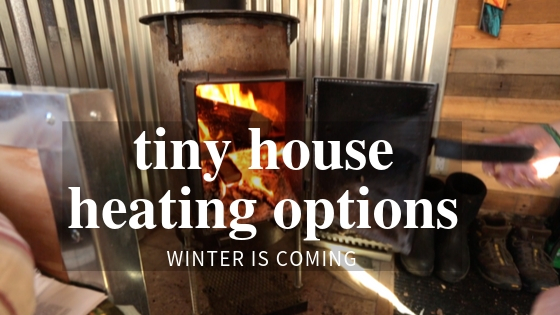 Stay Warm and Cozy! 5 of the Best Tiny House Heating Options
If you want to stay warm and cozy in your tiny home, you should click here to learn about the best tiny house heating options. Winter is coming.
Winter is on its way, and there's nothing better than enjoying a cozy evening at home while the wind wails outside. While we're all for sweater-weather, some autumn nights can get downright chilly. It's time to start thinking about winterizing and heating your tiny home.
So what are your tiny house heating options when you don't have access to a central heating system?
Here are 5 of the best ways to keep your little home perfectly comfortable in any kind of cooler weather.
Understanding Tiny House Heating Options
Before you settle on any one heating method, think about your options and your individual circumstances for the winter. Your tiny home won't have access to standard residential heating services.
If you're planning to be on the grid come winter, your heating options will be greater.
Be realistic about your own tastes and habits as well. You may like the idea of an idyllic wood-burning stove on a frosty night, but does that interest you more than potential safety concerns?
Upfront and longterm costs of each type of heating method will vary as well. Plan ahead so that in the long run you're not paying more than you've budgeted for heating.
Regardless of which method you decide is worth your time and effort, review all these options first. Doing your due diligence will ensure you're not caught off guard when the first frost sweeps in.
Pellet or Wood Stoves
If you're a tiny home-owner, odds are you already consider yourself a bit of an idealist. Something about being able to live on little and pick up and leave whenever you please is thrilling. And most importantly, the feeling of self-sufficiency.
In this case, you might be most happy with a pellet or wood stove to warm your little space. They look nice, and while the upfront cost is on the pricey end, fueling them is less costly.
You're looking at spending somewhere between $800-$3,000 for a proper wood stove installation.
Other pros of a wood or pellet stove include:
More environmentally friendly
Multi-functioning, they can be used to heat and cook
Once installed, fueling them is generally cheaper than other heating methods
They're plain fun and charming
Useful if you lose power or have no access to electricity
Cons:
It's challenging to find a wood stove small enough for a tiny home, allowing enough clearance room for safety
Having a stove the wrong size can leave you burning up
They're a lot of work, finding wood, chopping it, hauling it, storing it, cleaning up after a fire, preventing ashes from getting all over
They're messy, be prepared to sweep up around them all the time and potentially wipe soot off the floor and wall
Propane Heaters
These beauties are quite a bit less expensive at the start in comparison with a wood stove. Hitting anywhere from around $75-$1,500, you can choose one that works for your wallet.
Propane Pros:
Cheap
Has a clean burn, no mess
You can control it via a thermostat
Refilling propane tanks is inexpensive
Refilling tanks is easy; you can find fuel almost anywhere
Cons:
Some models don't give off as much heat as other heating methods
Some models don't come with a thermostat
Runs on non-environmentally-friendly fossil fuels
Depending on the model, they give off a slight propane scent
If you're way off the grid, finding fuel may present a challenge
Radiator Heaters
This is an option for those planning to stay on the grid during the fall and winter months. You'll need a power source to run a radiator heater.
Radiator Pros:
You can whip them out when you need them and store them away when the weather warms up
They put off an even warmth through your entire space
Effective at heating your entire space
Thermostat controlled and highly energy-efficient options
Very inexpensive to purchase
Cons:
While you can find radiators for under $100, you're going to have to power the thing. If one of the less efficient models, this can translate some serious electricity bills during the winter months
If you're off the grid, you're out of luck
Electric Heaters
This is one of the most popular options for heating a tiny house for good reason.
The pros of an electric heater are many, but there are some downsides. To start, you will be thrilled with how inexpensive they can be to purchase. You'll find options that range from $35-$150.
More Electric Heater Pros:
Inexpensive to purchase
Can be purchased almost anywhere, warehouses, department stores, large retailers, hardware stores
BTU sizes vary so you can choose the right one for your space
No installation required
Thermostat controlled options
You can select "radiant heat," or "forced air" to warm your space
The cons of electric heaters are worth looking at:
Can't use them without a power source
Unfortunately, they're not super attractive
They take up space inside your tiny home
They will have a definite impact on your monthly power bills
Mini Split
Every tiny house dweller loves multifunctional design. That's what makes mini-splits so handy. They're an excellent heating and air conditioning solution for year-round weather changes.
They use a small air handling unit that is mounted on the wall or ceiling, which is connected to an exterior heat pump.
Mini Split Pros:
Energy-efficient
Thermostat controlled
Multifunctional: heater, A/C and dehumidifier
Cons:
Upfront cost is on the high-end, $2,500-5,000
Has a track record for requiring maintenance and repair costs
Requires sizable amount of interior and exterior space
Choosing the Right Heater for You
Additional tiny house heating options could be added to the list. However, some of the best ways to ensure you stay warm include building your tiny home right from the start.
Proper insulation is key to keeping heat and cold air inside.
Some of the more essential factors to consider in your heating options will include cost, safety, environmental impact, and convenience of use. An excellent way to narrow your search is to start by prioritizing these things and setting a budget.
For more helpful tips and advice on enjoying your tiny house to the fullest, browse our blog.