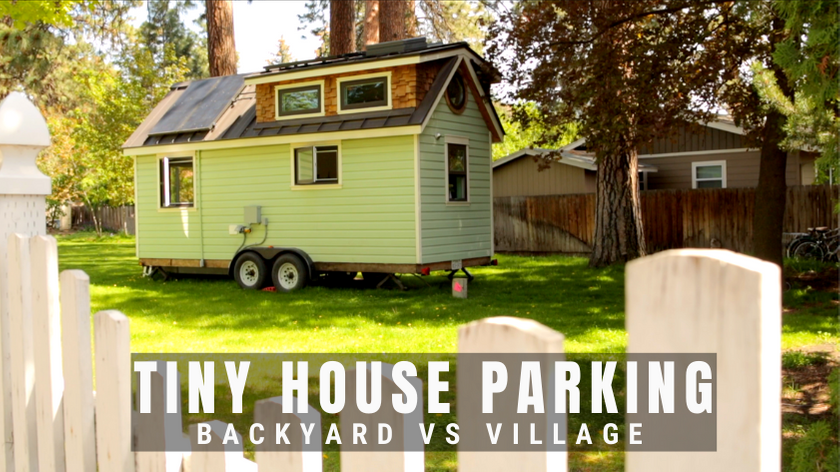 Tiny House Parking Comparison: Village VS Backyard
Tiny house parking is hugely important. The good news is the number of options is growing all the time. Check out our in-depth guide to learn about the available types of parking. But what type of tiny house parking spot is best for you?
Backyard parking and tiny home communities differ in many ways, especially when it comes to convenience, amenities, and security. We share a breakdown of the pros and cons of villages VS backyards.
Village Pro: stress-free legal parking! There is an exception: unpermitted backyard communities.
Backyard Con: most backyard parking isn't allowed, but many do it under the radar. This often works fine if you're a good neighbor and your neighbors don't mind. But one complaint to code enforcement can mean you have to move quickly to avoid fines.
Backyard Pro: convenient! You can find backyard spots in almost every town and city, close to amenities and near your job or family. Check out this guide for tips on how to find a backyard parking spot.
Village Con: limited availability. Tiny home communities and extended stay RV parks aren't available everywhere.
For more pros & cons, watch our tiny house parking comparison video above!
Which is tiny house parking type do you prefer?
Tiny House Parking: Backyard VS Tiny House Village
Exclusive Content
Monthly LIVE tiny living discussions with extended Q&A, plus BONUS content, like behind-the-scenes filmmaking and tiny home life insights.
Early Access
See new videos first, get first dibs on new online courses and more!
Exclusive Giveaways & Discounts
Win tiny living festivals passes, and more!
Join today!