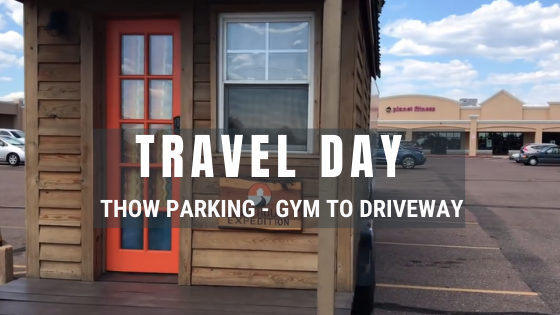 Today's Tiny House Parking Spot: a Gym and a Driveaway
Tiny House Parking on the Road
After carefully maneuvering out of a tight parking spot at Peak View Park, we headed down to the mountain with steep 7% grades. It's essential to take it slow and utilize the tow/haul mode in the truck, which boosts torque and engages the engine braking mode to help maintain control of our heavy load while driving up and downhills.
For more tiny house travel and towing advice, check out our webpage dedicated to the topic.
Our first new, temporary tiny house parking spot of the day was at Planet Fitness.
Like many nomads, we have BlackMmembership. It allows you to use any of their 2,000+ locations (not a sponsored post). The exercise equipment, massage chairs, showers, and wifi make such a great, healthy combination!
After working out, we scored delicious street tacos (the one thing we've eaten the most during our tiny house road trips)—just the fuel we needed to drive to northern Colorado.
Last year, we made friends with Masyn, a part-time tiny dweller, who converted a gorgeous short bus. She graciously invited us to park in her driveway.
To keep her neighbors in the loop, Masyn left a sign out front letting them know we are here for just the week and asking them to welcome us to the neighborhood. Not surprisingly, a couple of neighbors stopped by to greet us warmly.
In this city, tiny house evictions are unfortunately quite common. Local advocates are trying to push for more long-term legal parking options with some local support, but the NIMBY vibes are strong here. Fortunately, local advocates have helped make substantial legal progress, since our stay in Boulder.
Interested in more tiny house parking spots? Check our webpage dedicated to the subject!
Exclusive Content
Monthly LIVE tiny living discussions with extended Q&A, plus BONUS content, like behind-the-scenes filmmaking and tiny home life insights.
Early Access
See new videos first, get first dibs on new online courses and more!
Exclusive Giveaways & Discounts
Win tiny living festivals passes, and more!
Join today!