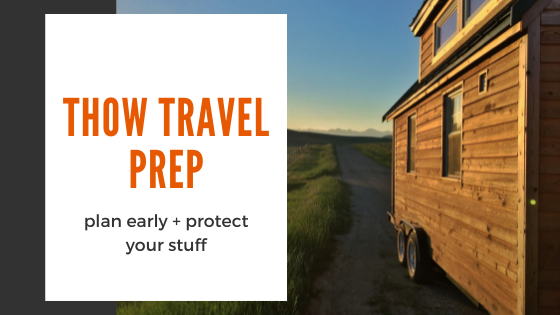 Tiny House Travel Prep Guide: How to Keep Your Interiors Safe
Ready to hit the road with your traveling home? Use this tiny house travel prep guide to stay safe!
Comfort is one of the first things you should naturally think of as a human being. One of the best ways to stay comfortable anywhere is to be able to take your house with you anywhere you go. Houses used to be restricted to just one location, but with homes on wheels, from van conversions to tiny houses on wheels, you can have your home while traveling.
Most mobile homes usually come in tiny sizes. Without any special permit obtained, the size usually is eight feet in width, 13 feet in height, and 40 feet in length. However, the larger the tiny home, the tougher it is too frequently to move from place to place.
The fact is traveling with your home on wheels means it is essential to take extra care to keep the interiors of your tiny house safe and road-worthy while traveling.
Continue reading below for an insightful tiny house travel prep guide. 
1) Tiny House Travel Prep Begins with Construction
One way to keep the interior of your tiny house safe is to pay careful attention to the building process itself. Make sure that the house is created with light yet solid wood or steel framing. The lighter-weight tiny houses make transporting much easier, and proper THOW framing will make sure whatever you are hinging and joining on it will stay in place during transit. 
Another thing to pay attention to while the building is the weight distribution of the house. Ensure that the weights are evenly distributed such that one side of the building is not heavier than the rest of the building. If one side is heavier, it's only natural that the house bends to the heavier side during your trip. This can be worrisome and can even almost cause an accident if you're not careful. So, it's vital to ensure your tiny house on wheels' weight is evenly distributed when building it. 
The safest weight distribution is to share the weight 60/40 %. 60% of the weight goes to the front of the tiny house. This is the area you put the heavy appliances and furniture's like the kitchen cabinets and bedroom furniture while the 40% goes to the tail end of the home. This is where you keep the living room furniture. That way, the weight distribution will be balanced, and there won't be any fear of it dangerously swaying during transit.
2) Secure Appliances Fast
One of the horrors you can face is getting to your location, opening the doors to your tiny house, and discovering that your appliances are damaged scattered on the floor. This mishap could easily have been avoided with the use of some solid cords. With these, you can keep the kitchen cabinet in place by tying them securely to the walls. You can also use them to keep the living room furniture in place too; if not, they're not built-ins. 
Some of these cords have hooks that will make them easy to secure to the wall. Adding some hooks or RV latches to doors that can fling open in transit will ensure that the content of such drawers, cabinets, and wardrobes remains intact upon arrival at your destination. For instance, if you're taking a cruise from California or traveling down bumpy roads, securing your appliances can help you get to your destination in one piece. 
3) Be Organized; Keep Your Rooms Safe
One of the ways to make sure your living room stays safe is to make certain that all the furniture is kept secured and well organized. If you have a mounted TV, you can keep it in place by holding it up with some safety straps. 
Be generous with non-slip pads for your living room furniture. Put the pads underneath the foot of the furniture to keep them from scraping the floors and marring the beauty. For pictures and other breakables, you can remove them from your shelving, put them into a padded milk crate (we used koozies & kitchen towels), and put them back in place later. You may also use a strong cord to keep some books and other appliances in place. 
Other places you may need to pay special attention to and secure properly in your tiny home include your bathroom and a downstairs bedroom. The furniture in these places needs some latching with hooks, cords, and adhesives to keep them intact. For instance, you don't want your Murphy bed to flop down while you're moving! You can ensure it is kept in place by using a strong latch to tie it to the wall.
Also, make sure your fridge and closet door are firmly closed and latched. This will make sure you don't have scenes of food and clothes flying around the house.
Check here for tips on how to use space efficiently in your tiny home, and here for a look inside our travel-prepped tiny house on wheels.
Finally, always remember when in doubt put things on the floor. Remembering this will help you to keep anything that can stay safe neatly stowed on the floor, but don't forget about your weight balancing!
Tiny House Travel Prep Conclusion
In conclusion, tiny homes are the new definition of carrying your comfort anywhere you go. However, it can be terrifying to discover damaged belongings while in transit because you didn't take precautions. 
To keep your interior safe and intact while traveling, build your house with solid yet light-weight materials, ensure there's even distribution of weight, and don't forget to be generous with strong cords, latches, and adhesives, and finally, allow some things to stay safe on the floor. 
The Ultimate THOW Travel How-To Guide
Learn the ins and outs of traveling with your tiny house on wheels, whether you are planning a one-time move OR a road trip.
We share our extensive first-hand experience traveling with our tiny home over 55,000 miles. Our hope is to encourage and empower your own DIY travel experience.
With the right preparation you'll be able to it the road, safely, and have the time of your life. Sign-up here.